Ἥρα τιμήεσσα, Λακίνιον ἃ τὸ θυῶδες
πολλάκις οὐρανόθεν νεισομένα καθορῇς,
δέξαι βύσσινον εἷμα, τό τοι μετὰ παιδὸς ἀγαυᾶς
Νοσσίδος ὕφανεν Θευφιλὶς ἁ Κλεόχας.

— Paton edition
Hera revered, who often descending from heaven
look on the Lacinian shrine fragrant with frankincense,
accept the linen garment which Theophilis,
daughter of Cleocha, wove for you with her noble
daughter Nossis.

— Paton edition
Hêra vénérable déesse, qui viens si souvent jeter du haut
du ciel un regard sur ton temple parfumé de Lakinion,
daigne agréer ce vètement de lin, qu'avec sa fille Nossis a
tissé pour toi la noble Théophilis, fille de Cléocha.

— Waltz edition
Hêra vénérable déesse, qui viens si souvent jeter du haut
du ciel un regard sur ton temple parfumé de Lakinion,
daigne agréer ce vètement de lin, qu'avec sa fille Nossis a
tissé pour toi la noble Théophilis, fille de Cléocha.

— Waltz edition
Hera revered, who often descending from heaven
look on the Lacinian shrine fragrant with frankincense,
accept the linen garment which Theophilis,
daughter of Cleocha, wove for you with her noble
daughter Nossis.

— Paton edition

Ἥρα τιμήεσσα, Λακίνιον ἃ τὸ θυῶδες
πολλάκις οὐρανόθεν νεισομένα καθορῇς,
δέξαι βύσσινον εἷμα, τό τοι μετὰ παιδὸς ἀγαυᾶς
Νοσσίδος ὕφανεν Θευφιλὶς ἁ Κλεόχας.

— Paton edition
City
Keywords
Metric forms (eng)
Periods (eng)
Quoted poets (eng)
Validation (eng)
Collections (eng)
Genres (eng)
Deities (eng)
Quoted persons (eng)
Scholium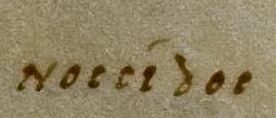 Scholium 6.265.1
Alignments
Ἥρα τιμήεσσα , Λακίνιον ἃ τὸ θυῶδες
πολλάκις οὐρανόθεν νεισομένα καθορῇς ,
δέξαι βύσσινον εἷμα , τό τοι μετὰ παιδὸς ἀγαυᾶς
Νοσσίδος ὕφανεν Θευφιλὶς ἁ Κλεόχας .

Hera revered , who often descending from heaven
look on the Lacinian shrine fragrant with frankincense ,
accept the linen garment which Theophilis ,
daughter of Cleocha , wove for you with her noble
daughter Nossis .

Ἥρα τιμήεσσα , Λακίνιον ἃ τὸ θυῶδες
πολλάκις οὐρανόθεν νεισομένα καθορῇς ,
δέξαι βύσσινον εἷμα , τό τοι μετὰ παιδὸς ἀγαυᾶς
Νοσσίδος ὕφανεν Θευφιλὶς ἁ Κλεόχας .

Hêra vénérable déesse , qui viens si souvent jeter du haut
du ciel un regard sur ton temple parfumé de Lakinion ,
daigne agréer ce vètement de lin , qu ' avec sa fille Nossis a
tissé pour toi la noble Théophilis , fille de Cléocha .

External reference
Media