φωσφόρος ὦ σώτειρ᾽, ἐπὶ Πόλλιδος ἕσταθι κλήρων,
Ἄρτεμι, καὶ χαρίεν φῶς ἑὸν ἀνδρὶ δίδου,
αὐτῷ καὶ γενεῇ τόπερ εὐμαρές: οὐ γὰρ ἀφαυρῶς
ἐκ Διὸς ἰθείης οἶδε τάλαντα δίκης.

ἄλσος δ᾽,Ἄρτεμι, τοῦτο καὶ ἂν Χαρίτεσσι θεούσαις
εἴη ἐπ᾽ ἀνθεμίδων σάμβαλα κοῦφα βαλεῖν,


— Paton edition
Stand here, Artemis the Saviour, with your torch
on the land of Pollis, and give your delightful light
to him and to his children. The task is easy ; for no
feeble knowledge has he from Zeus of the unerring
scales of Justice. And, Artemis, let the Graces too
race over this grove, treading on the flowers with
their light sandals.

— Paton edition
Porte-flambeau, Artémis tutélaire, dresse-toi sur le
domaine de Pollis et, riante, lumière que tu es, donne à cet
homme, pour lui-même et pour sa famille, ce qui peut leur
être avantageux ; car sans lumière il ne peut connaître les
lois de la droite justice, qui viennent de Zeus. D'ailleurs ce
bois sacré, Artémis, conviendrait bien aux Grâces, si elles
voulaient danser de leurs pieds légers sur ses tapis de fleurs.

— Waltz edition
Porte-flambeau, Artémis tutélaire, dresse-toi sur le
domaine de Pollis et, riante, lumière que tu es, donne à cet
homme, pour lui-même et pour sa famille, ce qui peut leur
être avantageux ; car sans lumière il ne peut connaître les
lois de la droite justice, qui viennent de Zeus. D'ailleurs ce
bois sacré, Artémis, conviendrait bien aux Grâces, si elles
voulaient danser de leurs pieds légers sur ses tapis de fleurs.

— Waltz edition
Stand here, Artemis the Saviour, with your torch
on the land of Pollis, and give your delightful light
to him and to his children. The task is easy ; for no
feeble knowledge has he from Zeus of the unerring
scales of Justice. And, Artemis, let the Graces too
race over this grove, treading on the flowers with
their light sandals.

— Paton edition

φωσφόρος ὦ σώτειρ᾽, ἐπὶ Πόλλιδος ἕσταθι κλήρων,
Ἄρτεμι, καὶ χαρίεν φῶς ἑὸν ἀνδρὶ δίδου,
αὐτῷ καὶ γενεῇ τόπερ εὐμαρές: οὐ γὰρ ἀφαυρῶς
ἐκ Διὸς ἰθείης οἶδε τάλαντα δίκης.

ἄλσος δ᾽,Ἄρτεμι, τοῦτο καὶ ἂν Χαρίτεσσι θεούσαις
εἴη ἐπ᾽ ἀνθεμίδων σάμβαλα κοῦφα βαλεῖν,


— Paton edition
Cities
Keywords
Metric forms (eng)
Deities (eng)
Motifs (eng)
Validation (eng)
Periods (eng)
Collections (eng)
Genres (eng)
Mythical characters, minor deities (eng)
Quoted persons (eng)
Scholium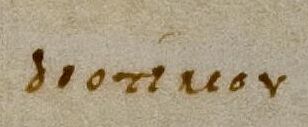 Scholium 6.267.1
Alignments
φωσφόρος ὦ σώτειρ , ἐπὶ Πόλλιδος ἕσταθι κλήρων ,
Ἄρτεμι , καὶ χαρίεν φῶς ἑὸν ἀνδρὶ δίδου ,
αὐτῷ καὶ γενεῇ τόπερ εὐμαρές : οὐ γὰρ ἀφαυρῶς
ἐκ Διὸς ἰθείης οἶδε τάλαντα δίκης .


ἄλσος δ , Ἄρτεμι , τοῦτο καὶ ἂν Χαρίτεσσι θεούσαις
εἴη ἐπ ἀνθεμίδων σάμβαλα κοῦφα βαλεῖν ,

Stand here , Artemis the Saviour , with your torch
on the land of Pollis , and give your delightful light
to him and to his children . The task is easy ; for no
feeble knowledge has he from Zeus of the unerring
scales of Justice . And , Artemis , let the Graces too
race over this grove , treading on the flowers with
their light sandals .

φωσφόρος ὦ σώτειρ , ἐπὶ Πόλλιδος ἕσταθι κλήρων ,
Ἄρτεμι , καὶ χαρίεν φῶς ἑὸν ἀνδρὶ δίδου ,
αὐτῷ καὶ γενεῇ τόπερ εὐμαρές : οὐ γὰρ ἀφαυρῶς
ἐκ Διὸς ἰθείης οἶδε τάλαντα δίκης .


ἄλσος δ , Ἄρτεμι , τοῦτο καὶ ἂν Χαρίτεσσι θεούσαις
εἴη ἐπ ἀνθεμίδων σάμβαλα κοῦφα βαλεῖν ,

Porte - flambeau , Artémis tutélaire , dresse - toi sur le
domaine de Pollis et , riante , lumière que tu es , donne à cet
homme , pour lui - même et pour sa famille , ce qui peut leur
être avantageux ; car sans lumière il ne peut connaître les
lois de la droite justice , qui viennent de Zeus . D ' ailleurs ce
bois sacré , Artémis , conviendrait bien aux Grâces , si elles
voulaient danser de leurs pieds légers sur ses tapis de fleurs .

External references
Media