ἔντεα Βρέττιοι ἄνδρες ἀπ᾽ αἰνομόρων βάλον ὤμων,
θεινόμενοι Λοκρῶν χερσὶν ὕπ᾽ ὠκυμάχων,

ὧν ἀρετὰν ὑμνεῦντα θεῶν ὑπ᾽ ἀνάκτορα κεῖνται,
οὐδὲ ποθεῦντι κακῶν πάχεας, οὓς ἔλιπον.


— Paton edition
Les Bruttiens ont jeté leurs armes de leurs misérables
épaules, sous les coups des agiles guerriers Locriens. Elles
célèbrent leur vaillance, déposées dans les sanctuaires des dieux,
sans regretter les bras des lâches qu'elles ont quittés.

— Waltz edition
These their shields the Bruttians threw from
their doomed shoulders, smitten by the swiftly-
charging Locrians. Here they hang in the temple
of the gods, praising them, the brave, and regretting not the clasp of the cowards they left.

— Paton edition
These their shields the Bruttians threw from
their doomed shoulders, smitten by the swiftly-
charging Locrians. Here they hang in the temple
of the gods, praising them, the brave, and regretting not the clasp of the cowards they left.

— Paton edition
Les Bruttiens ont jeté leurs armes de leurs misérables
épaules, sous les coups des agiles guerriers Locriens. Elles
célèbrent leur vaillance, déposées dans les sanctuaires des dieux,
sans regretter les bras des lâches qu'elles ont quittés.

— Waltz edition

ἔντεα Βρέττιοι ἄνδρες ἀπ᾽ αἰνομόρων βάλον ὤμων,
θεινόμενοι Λοκρῶν χερσὶν ὕπ᾽ ὠκυμάχων,

ὧν ἀρετὰν ὑμνεῦντα θεῶν ὑπ᾽ ἀνάκτορα κεῖνται,
οὐδὲ ποθεῦντι κακῶν πάχεας, οὓς ἔλιπον.


— Paton edition
Cities
Keywords
Metric forms (eng)
Periods (eng)
Validation (eng)
Motifs (eng)
Collections (eng)
Genres (eng)
Peoples, places (eng)
Scholium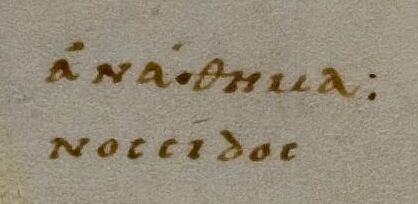 Scholium 6.132.1
Alignments
ἔντεα Βρέττιοι ἄνδρες ἀπ αἰνομόρων βάλον ὤμων ,
θεινόμενοι Λοκρῶν χερσὶν ὕπ ὠκυμάχων ,


ὧν ἀρετὰν ὑμνεῦντα θεῶν ὑπ ἀνάκτορα κεῖνται ,
οὐδὲ ποθεῦντι κακῶν πάχεας , οὓς ἔλιπον .

Les Bruttiens ont jeté leurs armes de leurs misérables
épaules , sous les coups des agiles guerriers Locriens . Elles
célèbrent leur vaillance , déposées dans les sanctuaires des dieux ,
sans regretter les bras des lâches qu ' elles ont quittés .

ἔντεα Βρέττιοι ἄνδρες ἀπ αἰνομόρων βάλον ὤμων ,
θεινόμενοι Λοκρῶν χερσὶν ὕπ ὠκυμάχων ,


ὧν ἀρετὰν ὑμνεῦντα θεῶν ὑπ ἀνάκτορα κεῖνται ,
οὐδὲ ποθεῦντι κακῶν πάχεας , οὓς ἔλιπον .

These their shields the Bruttians threw from
their doomed shoulders , smitten by the swiftly -
charging Locrians . Here they hang in the temple
of the gods , praising them , the brave , and regretting not the clasp of the cowards they left .

Internal references
External references
Media