ἦ ῥα μένος σε, Πρόαρχ᾽, ὄλες1᾽ ἐν δαΐ, δῶμά τε πατρὸς
Φειδία ἐν δνοφερῷ πένθει ἔθου φθίμενος:
ἀλλὰ καλόν τοι ὕπερθεν ἔπος τόδε πέτρος ἀείδει,
ὡς ἔθανες πρὸ φίλας μαρνάμενος πατρίδος.


— Paton edition
Your valour, Proarchus, slew you in the fight, and
you have put in black mourning by your death the
house of your father Phidias. But the stone above
you sings this good message, that you did fall
fighting for your dear fatherland.

— Paton edition
On a fait de toi un éphèbe, Proarchos, enfant que tu étais,
et la demeure de ton père Phidias, tu l'as plongée dans un
sombre deuil par ton trépas. Mais ils sont beaux, ces mots
qu'au-dessus de toi la pierre proclame : que tu es mort en
combattant pour ta chère patrie

— Waltz edition
On a fait de toi un éphèbe, Proarchos, enfant que tu étais,
et la demeure de ton père Phidias, tu l'as plongée dans un
sombre deuil par ton trépas. Mais ils sont beaux, ces mots
qu'au-dessus de toi la pierre proclame : que tu es mort en
combattant pour ta chère patrie

— Waltz edition
Your valour, Proarchus, slew you in the fight, and
you have put in black mourning by your death the
house of your father Phidias. But the stone above
you sings this good message, that you did fall
fighting for your dear fatherland.

— Paton edition

ἦ ῥα μένος σε, Πρόαρχ᾽, ὄλες1᾽ ἐν δαΐ, δῶμά τε πατρὸς
Φειδία ἐν δνοφερῷ πένθει ἔθου φθίμενος:
ἀλλὰ καλόν τοι ὕπερθεν ἔπος τόδε πέτρος ἀείδει,
ὡς ἔθανες πρὸ φίλας μαρνάμενος πατρίδος.


— Paton edition
Cities
Keywords
Metric forms (eng)
Periods (eng)
Genres (eng)
Validation (eng)
Reading paths (eng)
Quoted persons (eng)
Motifs (eng)
Scholia

Scholium 7.724.1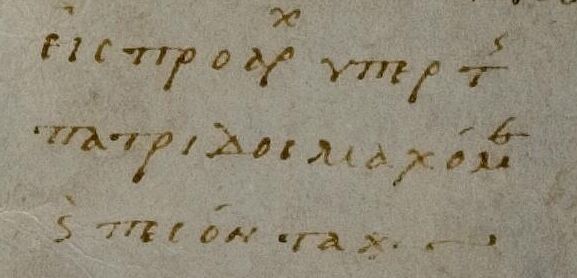 Scholium 7.724.2
Alignments
ἦ ῥα μένος σε , Πρόαρχ , ὄλες ἐν δαΐ , δῶμά τε πατρὸς
Φειδία ἐν δνοφερῷ πένθει ἔθου φθίμενος :
ἀλλὰ καλόν τοι ὕπερθεν ἔπος τόδε πέτρος ἀείδει ,
ὡς ἔθανες πρὸ φίλας μαρνάμενος πατρίδος .

Your valour , Proarchus , slew you in the fight , and
you have put in black mourning by your death the
house of your father Phidias . But the stone above
you sings this good message , that you did fall
fighting for your dear fatherland .

ἦ ῥα μένος σε , Πρόαρχ , ὄλες ἐν δαΐ , δῶμά τε πατρὸς
Φειδία ἐν δνοφερῷ πένθει ἔθου φθίμενος :
ἀλλὰ καλόν τοι ὕπερθεν ἔπος τόδε πέτρος ἀείδει ,
ὡς ἔθανες πρὸ φίλας μαρνάμενος πατρίδος .

On a fait de toi un éphèbe , Proarchos , enfant que tu étais ,
et la demeure de ton père Phidias , tu l ' as plongée dans un
sombre deuil par ton trépas . Mais ils sont beaux , ces mots
qu ' au - dessus de toi la pierre proclame : que tu es mort en
combattant pour ta chère patrie

External references
Media