οὐ μόνος ἐμψύχων ἄπεχες χέρας, ἀλλὰ καὶ ἡμεῖς:
τίς γὰρ ὃς ἐμψύχων ἥψατο, Πυθαγόρη;
ἀλλ᾽ ὅταν ἑψηθῇ τι καὶ ὀπτηθῇ καὶ ἁλισθῇ
δὴ τότε καὶ ψυχὴν οὐκ ἔχον ἐσθίομεν.


— Paton edition
Not, you alone, Pythagoras, abstained from living
things, but we do so likewise ; who ever touched
living things ? But when they are boiled and roasted
and salted, then they have no life in them and we
eat them.

— Paton edition
Tu n'est pas le seul à t'abstenir de manger des choses
animées, nous faisons de même. Quel est en effet, Pythagore,
l'homme qui a mangé des choses animées ? Une fois qu'un
mets est cuit, grillé et salé, à coup sûr c'est bien quelque
chose qui n'a pas d'âme que nous mangeons.

— Waltz edition
Ad astenerti da ciò ch'è animato, solo non fosti:
anche di noi, chi ne toccò, Pitagora?
Ma se un cibo si scotta, si cuoce, si sala, la cosa
che noi mangiamo un'anima non l'ha

- Edizione Pontani
Ad astenerti da ciò ch'è animato, solo non fosti:
anche di noi, chi ne toccò, Pitagora?
Ma se un cibo si scotta, si cuoce, si sala, la cosa
che noi mangiamo un'anima non l'ha

- Edizione Pontani
Tu n'est pas le seul à t'abstenir de manger des choses
animées, nous faisons de même. Quel est en effet, Pythagore,
l'homme qui a mangé des choses animées ? Une fois qu'un
mets est cuit, grillé et salé, à coup sûr c'est bien quelque
chose qui n'a pas d'âme que nous mangeons.

— Waltz edition
Not, you alone, Pythagoras, abstained from living
things, but we do so likewise ; who ever touched
living things ? But when they are boiled and roasted
and salted, then they have no life in them and we
eat them.

— Paton edition

οὐ μόνος ἐμψύχων ἄπεχες χέρας, ἀλλὰ καὶ ἡμεῖς:
τίς γὰρ ὃς ἐμψύχων ἥψατο, Πυθαγόρη;
ἀλλ᾽ ὅταν ἑψηθῇ τι καὶ ὀπτηθῇ καὶ ἁλισθῇ
δὴ τότε καὶ ψυχὴν οὐκ ἔχον ἐσθίομεν.


— Paton edition
Cities
Keywords
Metric forms (eng)
Periods (eng)
Validation (eng)
Reading paths (eng)
Famous or historical characters (eng)
Scholia
Scholium 7.121.1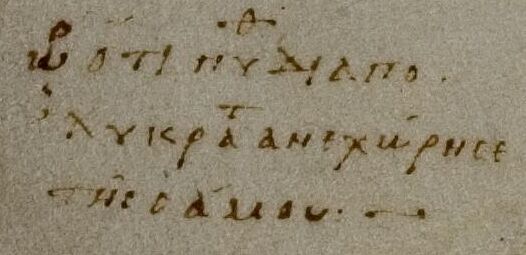 Scholium 7.121.2
Alignments
οὐ μόνος ἐμψύχων ἄπεχες χέρας , ἀλλὰ καὶ ἡμεῖς :
τίς γὰρ ὃς ἐμψύχων ἥψατο , Πυθαγόρη ;
ἀλλ ὅταν ἑψηθῇ τι καὶ ὀπτηθῇ καὶ ἁλισθῇ
δὴ τότε καὶ ψυχὴν οὐκ ἔχον ἐσθίομεν .

Not , you alone , Pythagoras , abstained from living
things , but we do so likewise ; who ever touched
living things ? But when they are boiled and roasted
and salted , then they have no life in them and we
eat them .

οὐ μόνος ἐμψύχων ἄπεχες χέρας , ἀλλὰ καὶ ἡμεῖς :
τίς γὰρ ὃς ἐμψύχων ἥψατο , Πυθαγόρη ;
ἀλλ ὅταν ἑψηθῇ τι καὶ ὀπτηθῇ καὶ ἁλισθῇ
δὴ τότε καὶ ψυχὴν οὐκ ἔχον ἐσθίομεν .

Tu n ' est pas le seul à t ' abstenir de manger des choses
animées , nous faisons de même . Quel est en effet , Pythagore ,
l ' homme qui a mangé des choses animées ? Une fois qu ' un
mets est cuit , grillé et salé , à coup sûr c ' est bien quelque
chose qui n ' a pas d ' âme que nous mangeons .

Internal references
External references
Media