θνῄσκων Ἑρμοκράτης ὁ φιλάργυρος ἐν διαθήκαις
αὑτὸν τῶν ἰδίων ἔγραφε κληρονόμον.
ψηφίζων δ᾽ ἀνέκειτο πόσον δώσει διεγερθεὶς
ἰητροῖς μισθοῦ, καὶ τί νοσῶν δαπανᾷ:

ὡς δ᾽ εὗρε πλείω δραχμὴν μίαν, ἢν διασωθῇ,

λυσιτελεῖ θνῄσκειν, εἶπε, καὶ ἐξετάθη.
κεῖται δ᾽ οὐδὲν ἔχων ὀβολοῦ πλέον οἱ δὲ τὰ κείνου
χρήματα κληρονόμοι ἥρπασαν ἀσπασίως.


— Paton edition
Hermocrates the miser when he was dying wrote himself his own heir in his will, and he lay there reckoning what fee he must pay the doctors if he leaves his bed and how much his illness costs him. But when he found it cost one drachma more if he were saved, " It pays," he said, " to die," and stiffened himself out. Thus he lies, having nothing but an obol, and his heirs were glad to seize on his wealth.

— Paton modified by Ulysse Bouchard
Tandis qu'il se mourait, Hermocratès l'avare rédigea son testament et se désignant lui-même héritier de ses propres biens! En son lit, il calculait quels honoraires, une fois debout, il donnerait à ses médecins et quelle dépense provoquait sa maladie. Ayant découvert qu'en cas de guérison il paierait une drachme de plus: "Il y a avantage à mourir", dit-il; et le voilà raide mort. Il gît là, n'ayant pour toute fortune qu'une obole; mais, de tous ses biens ˂ ses héritiers se saisirent avec joie ˃.

— Waltz edition
Tandis qu'il se mourait, Hermocratès l'avare rédigea son testament et se désignant lui-même héritier de ses propres biens! En son lit, il calculait quels honoraires, une fois debout, il donnerait à ses médecins et quelle dépense provoquait sa maladie. Ayant découvert qu'en cas de guérison il paierait une drachme de plus: "Il y a avantage à mourir", dit-il; et le voilà raide mort. Il gît là, n'ayant pour toute fortune qu'une obole; mais, de tous ses biens ˂ ses héritiers se saisirent avec joie ˃.

— Waltz edition
Hermocrates the miser when he was dying wrote himself his own heir in his will, and he lay there reckoning what fee he must pay the doctors if he leaves his bed and how much his illness costs him. But when he found it cost one drachma more if he were saved, " It pays," he said, " to die," and stiffened himself out. Thus he lies, having nothing but an obol, and his heirs were glad to seize on his wealth.

— Paton modified by Ulysse Bouchard

θνῄσκων Ἑρμοκράτης ὁ φιλάργυρος ἐν διαθήκαις
αὑτὸν τῶν ἰδίων ἔγραφε κληρονόμον.
ψηφίζων δ᾽ ἀνέκειτο πόσον δώσει διεγερθεὶς
ἰητροῖς μισθοῦ, καὶ τί νοσῶν δαπανᾷ:

ὡς δ᾽ εὗρε πλείω δραχμὴν μίαν, ἢν διασωθῇ,

λυσιτελεῖ θνῄσκειν, εἶπε, καὶ ἐξετάθη.
κεῖται δ᾽ οὐδὲν ἔχων ὀβολοῦ πλέον οἱ δὲ τὰ κείνου
χρήματα κληρονόμοι ἥρπασαν ἀσπασίως.


— Paton edition
Cities
Keywords
Scholium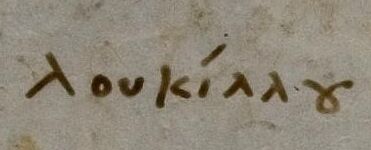 Scholium 11.171.1
Alignments
θνῄσκων Ἑρμοκράτης ὁ φιλάργυρος ἐν διαθήκαις
αὑτὸν τῶν ἰδίων ἔγραφε κληρονόμον .
ψηφίζων δ ἀνέκειτο πόσον δώσει διεγερθεὶς
ἰητροῖς μισθοῦ , καὶ τί νοσῶν δαπανᾷ :


ὡς δ εὗρε πλείω δραχμὴν μίαν , ἢν διασωθῇ ,


λυσιτελεῖ θνῄσκειν , εἶπε , καὶ ἐξετάθη .
κεῖται δ οὐδὲν ἔχων ὀβολοῦ πλέον οἱ δὲ τὰ κείνου
χρήματα κληρονόμοι ἥρπασαν ἀσπασίως .

Hermocrates the miser when he was dying wrote himself his own heir in his will , and he lay there reckoning what fee he must pay the doctors if he leaves his bed and how much his illness costs him . But when he found it cost one drachma more if he were saved , " It pays , " he said , " to die , " and stiffened himself out . Thus he lies , having nothing but an obol , and his heirs were glad to seize on his wealth .

Internal references
External references
Media