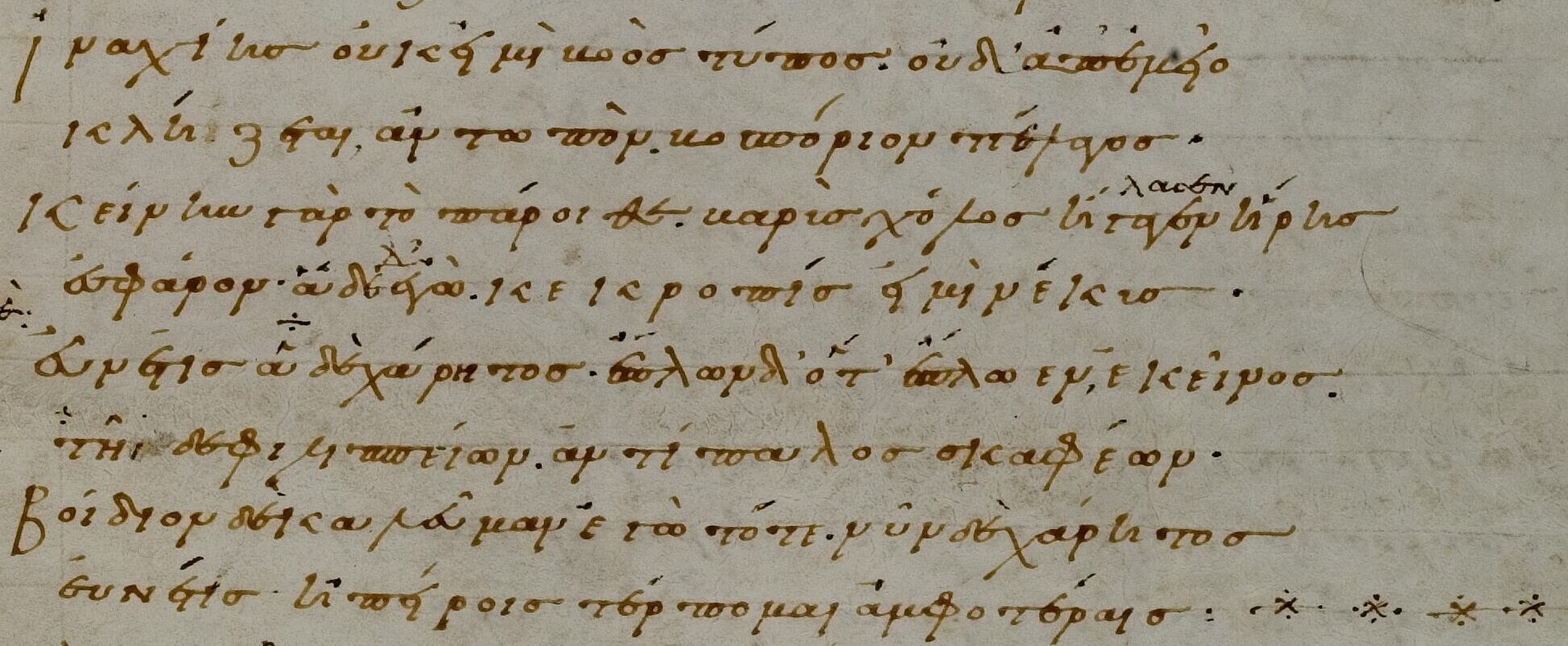 Ἰναχίης οὐκ εἰμὶ βοὸς τύπος, οὐδ᾽ ἀπ᾽ ἐμεῖο
κλῄζεται ἀντωπὸν Βοσπόριον πέλαγος.
κείνην γὰρ τὸ πάροιθε βαρὺς χόλος ἤλασενἭρης
ἐς Φάρον ἥδε δ᾽ ἐγὼ Κεκροπίς εἰμι νέκυς.

εὐνέτις ἦν δὲ Χάρητος: ἔπλων δ᾽ ὅτ᾽ ἔπλωεν ἐκεῖνος
τῇδε, Φιλιππείων ἀντίπαλος σκαφέων.
Βοιίδιον δὲ καλεῦμαι ἐγὼ τότε: νῦν δὲ Χάρητος
εὐνέτις ἠπείροις τέρπομαι ἀμφοτέραις.


— Paton edition
Je ne suis pas l'image de la génisse fille d'Inachos et ce
n'est pas de moi que le Bosphore qui me fait face tire son
nom. Celle-là en effet fut jadis chassée jusq'à Pharos par
la colère d'Héra ; mais moi qui suis ici, morte, je suis de la
ville de Cécrops. Épouse de Charès, je naviguais en même
temps que lui quand il vint ici pour s'attaquer à la flotte de
Philippe. Je m'appelle encore Boïdion, comme autrefois :
maintenant, épouse de Charès, je me plais à voir les deux
continents.

— Waltz edition
I am not the image of the Argive heifer, nor is
the sea that faces me, the Bosphorus, called after
me. She of old was driven to Pharos by the heavy
wrath of Hera ; but I here am a dead Athenian
woman, I was the bed-fellow of Chares, and sailed
with him when he sailed here to meet Philip's ships
in battle. I was called Boeidion (little cow) then,
and now I, bed-fellow of Chares, enjoy a view of
two continents.

— Paton edition
I am not the image of the Argive heifer, nor is
the sea that faces me, the Bosphorus, called after
me. She of old was driven to Pharos by the heavy
wrath of Hera ; but I here am a dead Athenian
woman, I was the bed-fellow of Chares, and sailed
with him when he sailed here to meet Philip's ships
in battle. I was called Boeidion (little cow) then,
and now I, bed-fellow of Chares, enjoy a view of
two continents.

— Paton edition
Je ne suis pas l'image de la génisse fille d'Inachos et ce
n'est pas de moi que le Bosphore qui me fait face tire son
nom. Celle-là en effet fut jadis chassée jusq'à Pharos par
la colère d'Héra ; mais moi qui suis ici, morte, je suis de la
ville de Cécrops. Épouse de Charès, je naviguais en même
temps que lui quand il vint ici pour s'attaquer à la flotte de
Philippe. Je m'appelle encore Boïdion, comme autrefois :
maintenant, épouse de Charès, je me plais à voir les deux
continents.

— Waltz edition

Ἰναχίης οὐκ εἰμὶ βοὸς τύπος, οὐδ᾽ ἀπ᾽ ἐμεῖο
κλῄζεται ἀντωπὸν Βοσπόριον πέλαγος.
κείνην γὰρ τὸ πάροιθε βαρὺς χόλος ἤλασενἭρης
ἐς Φάρον ἥδε δ᾽ ἐγὼ Κεκροπίς εἰμι νέκυς.

εὐνέτις ἦν δὲ Χάρητος: ἔπλων δ᾽ ὅτ᾽ ἔπλωεν ἐκεῖνος
τῇδε, Φιλιππείων ἀντίπαλος σκαφέων.
Βοιίδιον δὲ καλεῦμαι ἐγὼ τότε: νῦν δὲ Χάρητος
εὐνέτις ἠπείροις τέρπομαι ἀμφοτέραις.


— Paton edition
Cities
Keywords
Metric forms (eng)
Genres (eng)
Motifs (eng)
Validation (eng)
Deities (eng)
Mythical characters, minor deities (eng)
Quoted persons (eng)
Famous or historical characters (eng)
Scholia
Scholium 7.169.1
Scholium 7.169.2
Alignments
Ἰναχίης οὐκ εἰμὶ βοὸς τύπος , οὐδ ἀπ ἐμεῖο
κλῄζεται ἀντωπὸν Βοσπόριον πέλαγος .
κείνην γὰρ τὸ πάροιθε βαρὺς χόλος ἤλασενἭρης
ἐς Φάρον ἥδε δ ἐγὼ Κεκροπίς εἰμι νέκυς .


εὐνέτις ἦν δὲ Χάρητος : ἔπλων δ ὅτ ἔπλωεν ἐκεῖνος
τῇδε , Φιλιππείων ἀντίπαλος σκαφέων .
Βοιίδιον δὲ καλεῦμαι ἐγὼ τότε : νῦν δὲ Χάρητος
εὐνέτις ἠπείροις τέρπομαι ἀμφοτέραις .

I am not the image of the Argive heifer , nor is
the sea that faces me , the Bosphorus , called after
me . She of old was driven to Pharos by the heavy
wrath of Hera ; but I here am a dead Athenian
woman , I was the bed - fellow of Chares , and sailed
with him when he sailed here to meet Philip ' s ships
in battle . I was called Boeidion ( little cow ) then ,
and now I , bed - fellow of Chares , enjoy a view of
two continents .

Ἰναχίης οὐκ εἰμὶ βοὸς τύπος , οὐδ ἀπ ἐμεῖο
κλῄζεται ἀντωπὸν Βοσπόριον πέλαγος .
κείνην γὰρ τὸ πάροιθε βαρὺς χόλος ἤλασενἭρης
ἐς Φάρον ἥδε δ ἐγὼ Κεκροπίς εἰμι νέκυς .


εὐνέτις ἦν δὲ Χάρητος : ἔπλων δ ὅτ ἔπλωεν ἐκεῖνος
τῇδε , Φιλιππείων ἀντίπαλος σκαφέων .
Βοιίδιον δὲ καλεῦμαι ἐγὼ τότε : νῦν δὲ Χάρητος
εὐνέτις ἠπείροις τέρπομαι ἀμφοτέραις .

Je ne suis pas l ' image de la génisse fille d ' Inachos et ce
n ' est pas de moi que le Bosphore qui me fait face tire son
nom . Celle - là en effet fut jadis chassée jusq ' à Pharos par
la colère d ' Héra ; mais moi qui suis ici , morte , je suis de la
ville de Cécrops . Épouse de Charès , je naviguais en même
temps que lui quand il vint ici pour s ' attaquer à la flotte de
Philippe . Je m ' appelle encore Boïdion , comme autrefois :
maintenant , épouse de Charès , je me plais à voir les deux
continents .

External references
Media