εὐχέσθω τις ἔπειτα γυνὴ τόκον, εἶπε Πολυξώ,
γαστέρ᾽ ὑπὸ τρισσῶν ῥηγνυμένη τεκέων
μαίης δ᾽ ἐν παλάμῃσι χύθη νέκυς: οἱ δ᾽ ἐπὶ γαῖαν
ὤλισθον κοίλων ἄρρενες ἐκ λαγόνων,

μητέρος ἐκ νεκρῆς ζωὸς γόνος: εἷς ἄρα δαίμων
τῆς μὲν ἀπὸ ζωὴν εἵλετο, τοῖς δ᾽ ἔπορεν.


— Paton edition
"Let women after this pray for children," cried
Polyxo, her belly torn by three babes ; and in the
midwife's hands she fell dead, while the boys slid
from her hollow flanks to the ground, a live birth
from a dead-mother. So one took life from her
and she gave it to them.

— Paton edition
« Qu'une femme après cela aille souhaiter d'être mère ! »
disait Polyxo, alors que ses entrailles étaient brisées par un
triple enfantement ; entre les mains de l'accoucheuse elle
tomba morte, tandis que, du creux de ses flancs, les garçons
glissèrent à terre, d'une mère morte progéniture vivante. Il
n'y eut donc qu'une divinité pour ravir la vie à l'une et la
donner aux autres.

— Waltz edition
« Qu'une femme après cela aille souhaiter d'être mère ! »
disait Polyxo, alors que ses entrailles étaient brisées par un
triple enfantement ; entre les mains de l'accoucheuse elle
tomba morte, tandis que, du creux de ses flancs, les garçons
glissèrent à terre, d'une mère morte progéniture vivante. Il
n'y eut donc qu'une divinité pour ravir la vie à l'une et la
donner aux autres.

— Waltz edition
"Let women after this pray for children," cried
Polyxo, her belly torn by three babes ; and in the
midwife's hands she fell dead, while the boys slid
from her hollow flanks to the ground, a live birth
from a dead-mother. So one took life from her
and she gave it to them.

— Paton edition


εὐχέσθω τις ἔπειτα γυνὴ τόκον, εἶπε Πολυξώ,
γαστέρ᾽ ὑπὸ τρισσῶν ῥηγνυμένη τεκέων
μαίης δ᾽ ἐν παλάμῃσι χύθη νέκυς: οἱ δ᾽ ἐπὶ γαῖαν
ὤλισθον κοίλων ἄρρενες ἐκ λαγόνων,

μητέρος ἐκ νεκρῆς ζωὸς γόνος: εἷς ἄρα δαίμων
τῆς μὲν ἀπὸ ζωὴν εἵλετο, τοῖς δ᾽ ἔπορεν.


— Paton edition
Cities
Keywords
Metric forms (eng)
Periods (eng)
Genres (eng)
Validation (eng)
Reading paths (eng)
Motifs (eng)
Quoted persons (eng)
Scholia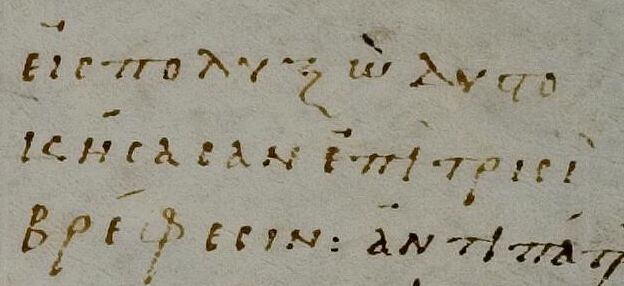 Scholium 7.168.1

Scholium 7.168.2
Alignments
εὐχέσθω τις ἔπειτα γυνὴ τόκον , εἶπε Πολυξώ ,
γαστέρ ὑπὸ τρισσῶν ῥηγνυμένη τεκέων
μαίης δ ἐν παλάμῃσι χύθη νέκυς : οἱ δ ἐπὶ γαῖαν
ὤλισθον κοίλων ἄρρενες ἐκ λαγόνων ,


μητέρος ἐκ νεκρῆς ζωὸς γόνος : εἷς ἄρα δαίμων
τῆς μὲν ἀπὸ ζωὴν εἵλετο , τοῖς δ ἔπορεν .

" Let women after this pray for children , " cried
Polyxo , her belly torn by three babes ; and in the
midwife ' s hands she fell dead , while the boys slid
from her hollow flanks to the ground , a live birth
from a dead - mother . So one took life from her
and she gave it to them .

εὐχέσθω τις ἔπειτα γυνὴ τόκον , εἶπε Πολυξώ ,
γαστέρ ὑπὸ τρισσῶν ῥηγνυμένη τεκέων
μαίης δ ἐν παλάμῃσι χύθη νέκυς : οἱ δ ἐπὶ γαῖαν
ὤλισθον κοίλων ἄρρενες ἐκ λαγόνων ,


μητέρος ἐκ νεκρῆς ζωὸς γόνος : εἷς ἄρα δαίμων
τῆς μὲν ἀπὸ ζωὴν εἵλετο , τοῖς δ ἔπορεν .

« Qu ' une femme après cela aille souhaiter d ' être mère ! »
disait Polyxo , alors que ses entrailles étaient brisées par un
triple enfantement ; entre les mains de l ' accoucheuse elle
tomba morte , tandis que , du creux de ses flancs , les garçons
glissèrent à terre , d ' une mère morte progéniture vivante . Il
n ' y eut donc qu ' une divinité pour ravir la vie à l ' une et la
donner aux autres .

Internal reference
External references
Media