οὗτος ὁ τοῦ Κείοιο Σιμωνίδεω ἐστὶ σαωτήρ,
ὃς καὶ τεθνηὼς ζῶντ᾽ ἀπέδωκε χάριν.


— Paton edition
The saviour of the Ceian Simonides is this man,
who even in death requited him who lived.

— Paton edition
Ceci, c'est le sauveur de Simonide de Céos ; il était mort,
et pourtant au vivant il a rendu service pour service.

— Waltz edition
Ceci, c'est le sauveur de Simonide de Céos ; il était mort,
et pourtant au vivant il a rendu service pour service.

— Waltz edition
The saviour of the Ceian Simonides is this man,
who even in death requited him who lived.

— Paton edition

οὗτος ὁ τοῦ Κείοιο Σιμωνίδεω ἐστὶ σαωτήρ,
ὃς καὶ τεθνηὼς ζῶντ᾽ ἀπέδωκε χάριν.


— Paton edition
Cities
Keywords
Metric forms (eng)
Quoted poets (eng)
Genres (eng)
Validation (eng)
Reading paths (eng)
Periods (eng)
Scholium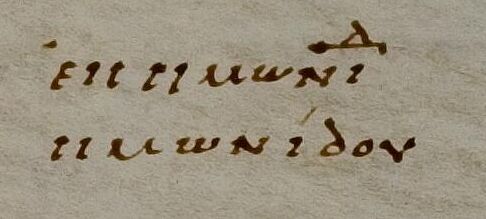 Scholium 7.77.1
Alignments
οὗτος ὁ τοῦ Κείοιο Σιμωνίδεω ἐστὶ σαωτήρ ,
ὃς καὶ τεθνηὼς ζῶντ ἀπέδωκε χάριν .

The saviour of the Ceian Simonides is this man ,
who even in death requited him who lived .

οὗτος ὁ τοῦ Κείοιο Σιμωνίδεω ἐστὶ σαωτήρ ,
ὃς καὶ τεθνηὼς ζῶντ ἀπέδωκε χάριν .

Ceci , c ' est le sauveur de Simonide de Céos ; il était mort ,
et pourtant au vivant il a rendu service pour service .

External references
Media