Perseus URN: http://data.perseus.org/citations/urn:cts:greekLit:tlg7000.tlg001.perseus-grc2:7.480
Hoc epigramma ex Anthologiae principali situ: https://anthologia.ecrituresnumeriques.ca/entities/992
Json fons: https://anthologia.ecrituresnumeriques.ca/api/v1/entities/992
Hoc epigramma ex POP situ: http://pop.anthologiegrecque.org/#/epigramme/992
Epigramma ad collectionem addictum ab editore Maxime Guénette Université de Montréal
Nuper mutata 2020-07-23T18:44:41.000Z
Argumenta:
distique élégiaque
,
distico elegiaco
,
Elegiac couplet
,
funerario
,
funéraire
,
époque hellénistique
,
epoca ellenistica
,
hellenistic period
,
Hermes
,
Night
,
Nux
,
Validé par Maxime
,
Hadès (dieu)
Textus epigrammatis
Lingua: ελληνικά
Editio:
ἤδη μευ τέτριπται ὑπεκκεκαλυμμένον ὀστεῦν
ἁρμονίᾐ τ᾽, ὦνερ, πλὰξ ἐπικεκλιμένη:
ἤδη καὶ σκώληκες ὑπὲκ σοροῦ αὐγάζονται
ἡμετέρης: τί πλέον γῆν ἐπιεννύμεθα;
ἦ γὰρ τὴν οὔπω πρὶν ἰτὴν ὁδὸν ἐτμήξαντο
ἄνθρωποι, κατ᾽ ἐμῆς νισσόμενοι κεφαλῆς.
ἀλλὰ πρὸς ἐγγαίων, Ἀϊδωνέος Ἑρμεία τε
καὶ Νυκτός, ταύτης ἐκτὸς ἴτ᾽ ἀτραπιτοῦ.
Lingua: Français
Editio: P. Waltz
Déjà sont broyés mes os à demi découverts et la dalle, étranger, qui pèse sur mon squelette; déjà les vers brillent sous mon cercueil: à quoi bon nous revêtir de terre? Car là où jamais auparavant on ne passait, les hommes ont frayé une route; ils vont et viennent sur ma tête. Ah! au nom des dieux souterrains, d'Hadès, d'Hermès, et de la Nuit, écartez-vous de ce chemin.
Lingua: English
Editio: W.R. Paton
Already, Sirrah, my bones and the slab that lies
on my skeleton are exposed and crushed, already
the worms are visible, looking out of my coffin. What
avails it to clothe ourselves with earth ; for men
travelling over my head have opened here a road
untrodden before. But I conjure you by the infernal
powers, Pluto, Hermes and Night, keep clear
of this path.
Codex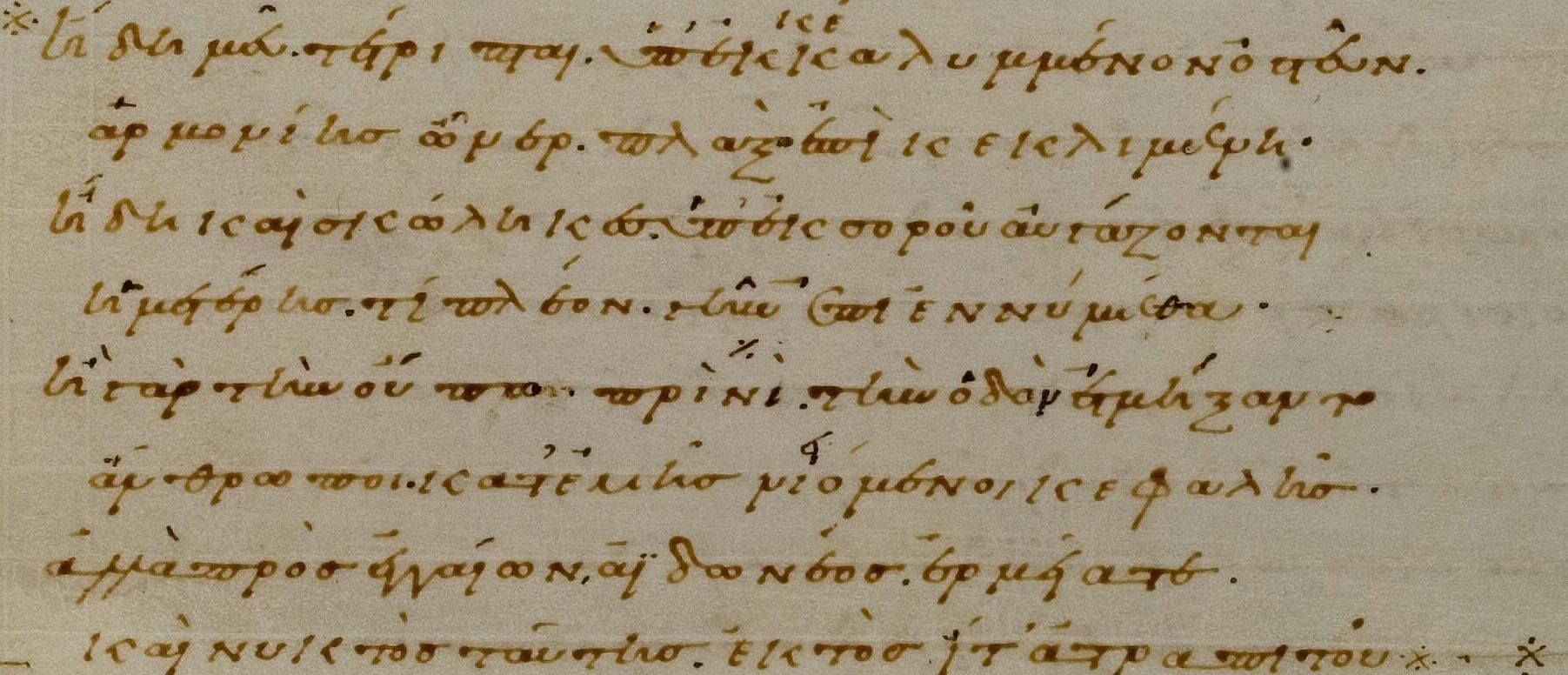 Internal Reference
Anthologia Graeca 7.478
Internal Reference
Anthologia Graeca 7.479
Note: Profanation
Les épigrammes 7.478-480 agissent comme une sorte de profanation: la tombe a glissé sur le chemin, ou bien une route a été frayée au milieu du cimetière; dans les deux cas, les roues des voitures menacent le cercueil et les ossements