Perseus URN: http://data.perseus.org/citations/urn:cts:greekLit:tlg7000.tlg001.perseus-grc2:7.450
Hoc epigramma ex Anthologiae principali situ: https://anthologia.ecrituresnumeriques.ca/entities/951
Json fons: https://anthologia.ecrituresnumeriques.ca/api/v1/entities/951
Hoc epigramma ex POP situ: http://pop.anthologiegrecque.org/#/epigramme/951
Epigramma ad collectionem additum ab editore Maxime Guénette Université de Montréal
Nuper mutata 2020-07-14T21:20:29.000Z
Argumenta:
distique élégiaque
,
distico elegiaco
,
Elegiac couplet
,
funerario
,
funéraire
,
époque hellénistique
,
epoca ellenistica
,
hellenistic period
,
Figures de poètes
,
Validé par Maxime
,
Samos
,
Virginité
,
Philainis de Samos
Textus epigrammatis
Lingua: ελληνικά
Editio:
τῆς Σαμίης τὸ μνῆμα Φιλαινίδος: ἀλλὰ προσειπεῖν
τλῆθί με, καὶ στήλης πλησίον, ὦνερ, ἴθι.
οὐκ εἴμ᾽ ἡ τὰ γυναιξὶν ἀναγράψασα προσάντη
ἔργα, καὶ Αἰσχύνην οὐ νομίσασα θεὸν
ἀλλὰ φιλαιδήμων, ναὶ ἐμὸν τάφον εἰ δέ τις ἡμέας
αἰσχύνων λαμυρὴν ἔπλασεν ἱστορίην,
τοῦ μὲν ἀναπτύξαι χρόνος οὔνομα: τἀμὰ δὲ λυγρὴν
ὀστέα τερφθείη κληδόν᾽ ἀπωσαμένης.
Lingua: Français
Editio: P. Waltz
C'est ici le monument de la Samienne Philainis. Mais n'aie pas peur de me parler et approche, passant, de ma stèle. Ce n'est pas moi qui ai décrit des actions infamantes pour notre sexe, qui ai méconnu la divinité de la Pudeur: je suis chaste, oui, par mon tombeau. Et si quelqu'un, à mon déshonneur, a forgé un récit effronté, que le temps révèle son nom et que mes os tressaillent d'avoir repoussé cette triste réputation.
Lingua: English
Editio: W.R. Paton
The tomb is that of Samian Philaenis ; but be not
ashamed. Sir, to speak to me and to approach the
stone. I am not she who wrote those works offensive
to ladies, and who did not acknowledge Modesty to be a goddess. But I was of a chaste disposition, I swear it by my tomb, and if anyone, to shame me,
composed a wanton treatise, may Time reveal his
name and may my bones rejoice that I am rid of the
abominable report.
Codex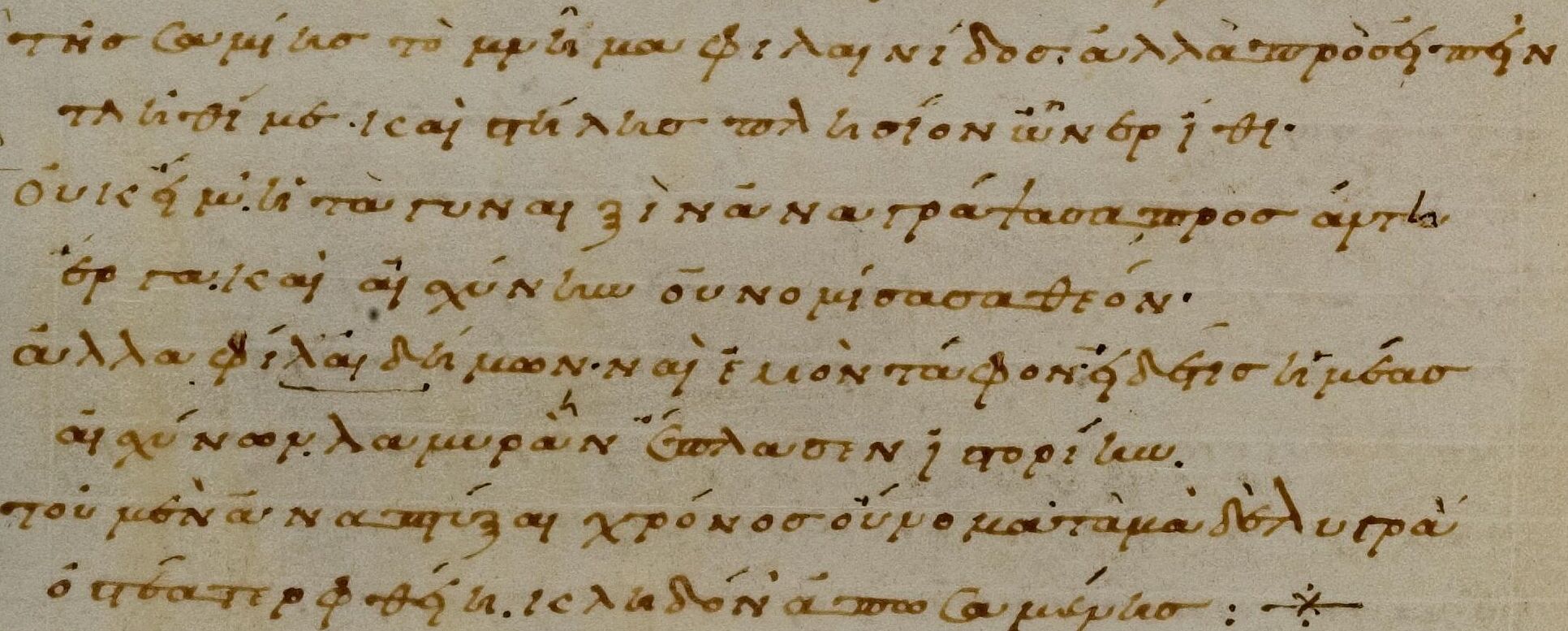 Internal Reference
Anthologia Graeca 7.345