Perseus URN: http://data.perseus.org/citations/urn:cts:greekLit:tlg7000.tlg001.perseus-grc2:7.430
Hoc epigramma ex Anthologiae principali situ: https://anthologia.ecrituresnumeriques.ca/entities/888
Json fons: https://anthologia.ecrituresnumeriques.ca/api/v1/entities/888
Hoc epigramma ex POP situ: http://pop.anthologiegrecque.org/#/epigramme/888
Epigramma ad collectionem additum ab editore Maxime Guénette Université de Montréal
Nuper mutata 2020-07-10T19:11:32.000Z
Argumenta:
distique élégiaque
,
distico elegiaco
,
Elegiac couplet
,
funerario
,
funéraire
,
époque hellénistique
,
epoca ellenistica
,
hellenistic period
,
Zeus
,
Argives
,
Images de héros
,
Validé par Maxime
,
Sparte
,
Mort au combat
,
Thyréa
,
Othryadas
Textus epigrammatis
Lingua: ελληνικά
Editio:
τίς τὰ νεοσκύλευτα ποτὶ δρυῒ τᾷδε καθᾶψεν
ἔντεα; τῷ πέλτα Δωρὶς ἀναγράφεται;
πλάθει γὰρ Θυρεᾶτις ὑφ᾽ αἵματος ἅδε λοχιτᾶν,
χἀμὲς ἀπ᾽ Ἀργείων τοὶ δύο λειπόμεθα.
πάντα νέκυν μάστευε δεδουπότα, μή τις, ἔτ᾽ ἔμπνους
λειπόμενος, Σπάρτᾳ κῦδος ἔλαμψε νόθον.
ἴσχε βάσιν. νίκα γὰρ ἐπ᾽ ἀσπίδος ὧδε Λακώνων
φωνεῖται θρόμβοις αἵματος Ὀθρυάδα,
χὠ τόδε μοχθήσας σπαίρει πέλας. ἆ πρόπατορ Ζεῦ,
στύξον ἀνικάτω σύμβολα φυλόπιδος.
Lingua: Français
Editio: P. Waltz
Qui a suspendu à ce chêne ces armes récemment enlevées? Quel est le nom inscrit sur cet écu dorien? Car le pays de Thyréa est plein du sang des soldats, et nous que voici, nous restons deux des Argiens. Cherche tous les cadavres tombés, de peur que, laissé encore en vie, quelqu'un n'ait fait briller sur Sparte une fausse gloire. Arrête. Ici, sur un bouclier, la victoire de Sparte est proclamée par les caillots de sang d'Othryadas, et l'auteur de cette oeuvre palpite à côté. Ah! Zeus notre ancêtre, rejette le trophée d'une troupe qui n'a pas vaincu.
Lingua: English
Editio: W.R. Paton
Who hung the newly-stripped arms on this oak ?
By whom is the Dorian shield inscribed ? For this
land of Thyrea is soaked with the blood of champions
and we are the only two left of the Argives. Seek
out every fallen corpse, lest any left alive illu-
minate Sparta in spurious glory. Nay ! stay thy
steps, for here on the shield the victory of the
Spartans is announced by the clots of Othryadas'
blood, and he who wrought this still gasps hard
by. O Zeus our ancestor, look with loathing on
those tokens of a victory that was not won.
Codex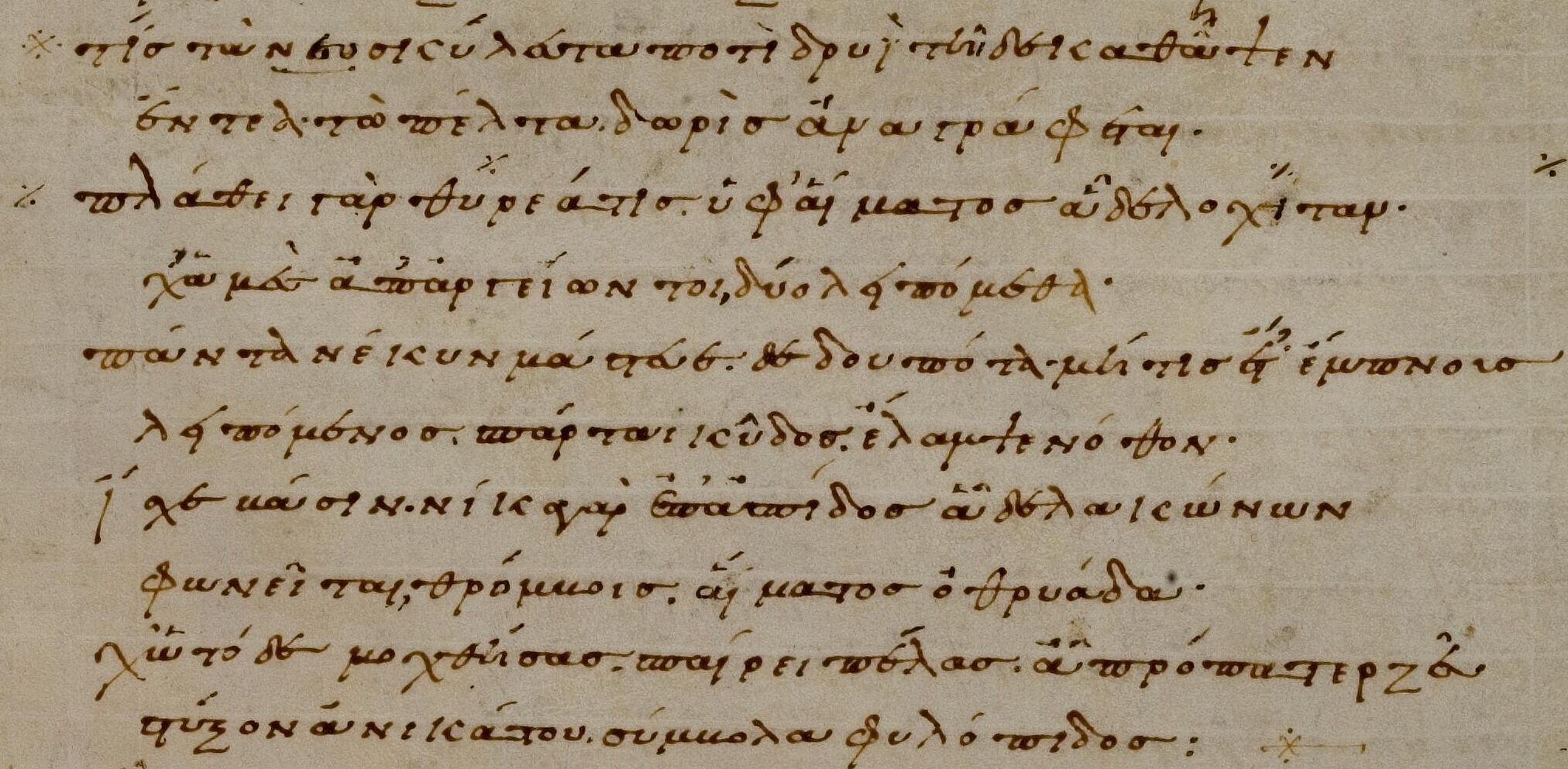 Internal Reference
Anthologia Graeca 7.431
Internal Reference
Anthologia Graeca 7.720
Note: Épigramme à la gloire de Sparte
Série d'épigrammes sur la gloire de Sparte, et plus particulièrement sur la bataille de Thyréa