Anthologia Graeca 7.260, Carphyllides
Perseus URN: http://data.perseus.org/citations/urn:cts:greekLit:tlg7000.tlg001.perseus-grc2:7.260
Hoc epigramma ex Anthologiae principali situ: https://anthologia.ecrituresnumeriques.ca/entities/404
Json fons: https://anthologia.ecrituresnumeriques.ca/api/v1/entities/404
Hoc epigramma ex POP situ: http://pop.anthologiegrecque.org/#/epigramme/404
Epigramma ad collectionem addictum ab editore Katerina Tzotzi Université de Montréal
Nuper mutata 2020-06-16T17:17:40.000Z
Argumenta:
distique élégiaque
,
distico elegiaco
,
Elegiac couplet
,
funerario
,
funéraire
,
Destin post-mortem
,
Exhortations
,
Validé par Romane
Textus epigrammatis
Lingua: ελληνικά
Editio: None

μὴ μέμψῃ παριὼν τὰ μνήματά μου, παροδῖτα
οὐδὲν ἔχω θρήνων ἄξιον οὐδὲ θανών.
τέκνων τέκνα λέλοιπα: μιῆς ἀπέλαυσα γυναικὸς
συγγήρου: τρισσοῖς παισὶν ἔδωκα γάμους,

ἐξ ὧν πολλάκι παῖδας ἐμοῖς ἐνεκοίμισα κόλποις,
οὐδενὸς οἰμώξας οὐ νόσον, οὐ θάνατον,
οἵ με κατασπείσαντες ἀπήμονα, τὸν γλυκὺν ὕπνον
κοιμᾶσθαι, χώρην πέμψαν ἐπ᾽ εὐσεβέων.

Lingua: Français
Editio: P. Waltz
Pour que tu ne fasses pas affront à mon tombeau en
passant près de lui, voyageur, sache que je n'ai pas besoin
de larmes, même dans la mort : j'ai laissé les enfants de mes
enfants ; je n'ai joui que d'une seule femme, compagne de
ma vieillese ; à mes trois fils j'ai donné des épouses ; sou-
vent j'ai bercé leurs fils dans mon sein, et d'aucun je n'ai eu
à pleurer ni la maladie ni la mort : ils m'ont honoré de
libations et m'ont conduit jusqu'au séjour des bienheureux
pour y dormir d'un paisible et doux sommeil.
Lingua: English
Editio: W. R. Paton
Find no fault with my fate, traveller, in passing my
tomb ; not even in death have I anything that calls for
mourning. I left children's children, I enjoyed the
company of one wife who grew old together with
me. I married my three children, and many children
sprung from these unions I lulled to sleep on my
lap, never grieving for the illness or loss of one.
They all, pouring these libations on my grave, sent
me off on a painless journey to the home of the
pious dead to sleep the sweet sleep.
Codex
Picturae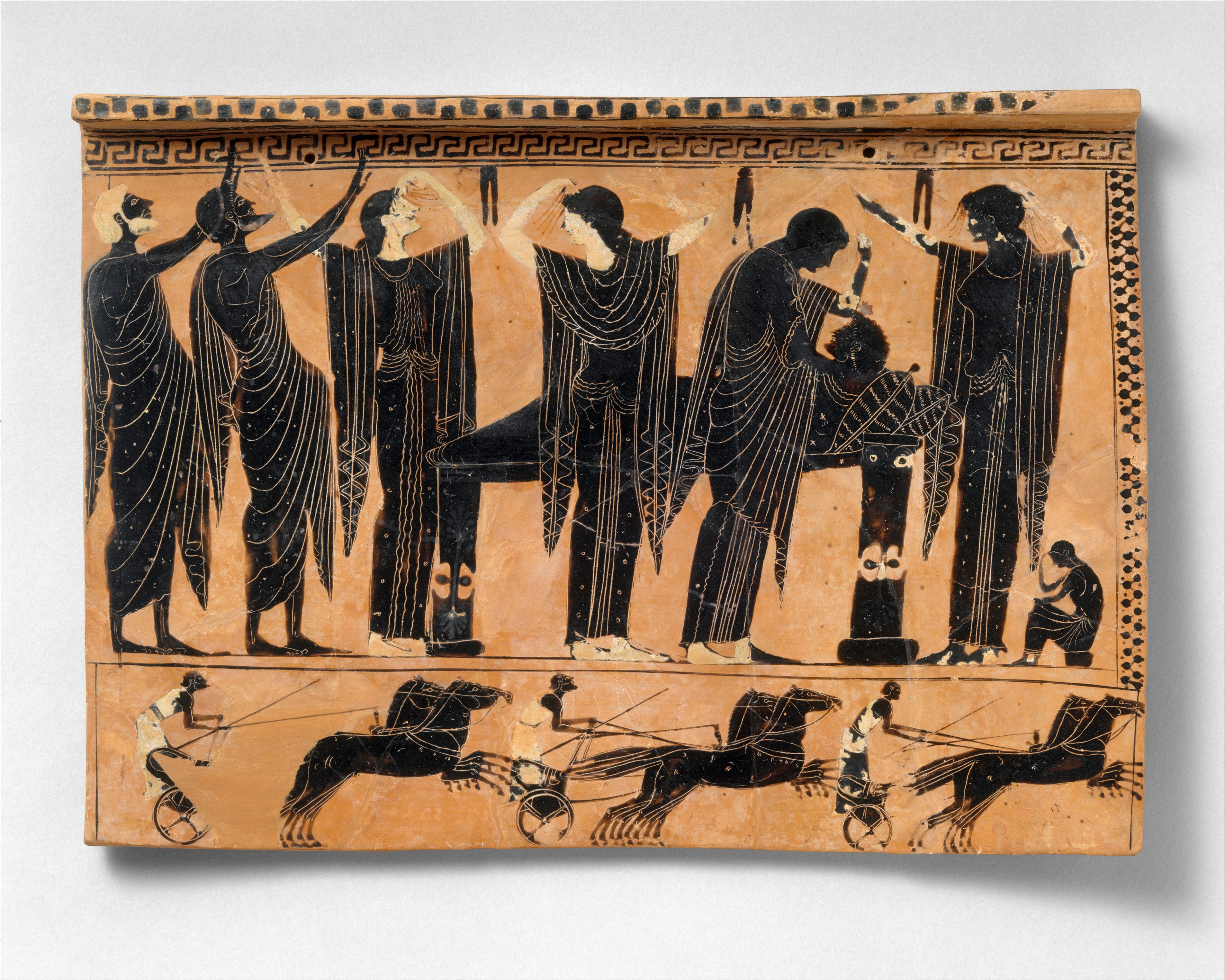 External Reference
Hippias' definition of "beautiful"