Perseus URN: http://data.perseus.org/citations/urn:cts:greekLit:tlg7000.tlg001.perseus-grc1:5.56
Hoc epigramma ex Anthologiae principali situ: https://anthologia.ecrituresnumeriques.ca/entities/1173
Json fons: https://anthologia.ecrituresnumeriques.ca/api/v1/entities/1173
Hoc epigramma ex POP situ: http://pop.anthologiegrecque.org/#/epigramme/1173
Epigramma ad collectionem additum ab editore Luiz Capelo Université de Montréal
Nuper mutata 2021-03-07T18:57:31.000Z
Argumenta:
distique élégiaque
,
distico elegiaco
,
Elegiac couplet
,
Amour
,
erotic
,
érotic
,
erotico
,
époque hellénistique
,
epoca ellenistica
,
hellenistic period
,
Midas
,
Fleurs
,
Flowers
,
Fiori
,
Validé par William
Textus epigrammatis
Lingua: ελληνικά
Editio: None

ἐκμαίνει χείλη με ῥοδόχροα, ποικιλόμυθα,
ψυχοτακῆ στόματος νεκταρέου πρόθυρα,
καὶ γλῆναι λασίαισιν ὑπ᾽ ὀφρύσιν ἀστράπτουσαι,
σπλάγχνων ἡμετέρων δίκτυα καὶ παγίδες,

καὶ μαζοὶ γλαγόεντες, ἐύζυγες, ἱμερόεντες,
εὐφυέες, πάσης τερπνότεροι κάλυκος.
ἀλλὰ τί μηνύω κυσὶν ὀστέα; μάρτυρὲς εἰσιν
τῆς ἀθυροστομίης οἱ Μίδεοι κάλαμοι.

Lingua: English
Editio: Paton
They drive me mad, those rosy prattling lips, soul-melting portals of the ambrosial mouth, and the eyes that flash under thick eyebrows, nets and traps of my heart, and those milky paps well-mated, full of charm, fairly formed, more delightful than any flower. But why am I pointing out bones to dogs ? Midas' reeds testify to what befalls tale-tellers.
Lingua: Français
Editio: Waltz
Ce qui m'affole, ce sont des lèvres de rose, des lèvres babillardes, vestibule d'une bouche de nectar, qui consument mon âme ; ce sont des prunelles qui étincellent sous des sourcils épais, filets et pièges où s'est pris mon cœur ; ce sont de beaux seins blancs comme le lait, désirables, bien accouplés, plus charmants que n'importe quelle fleur. Mais pourquoi montrer des os à des chiens ? Il y a toujours des témoins pour qui ne tient pas sa bouche close : ce sont des roseaux de Midas.
Codex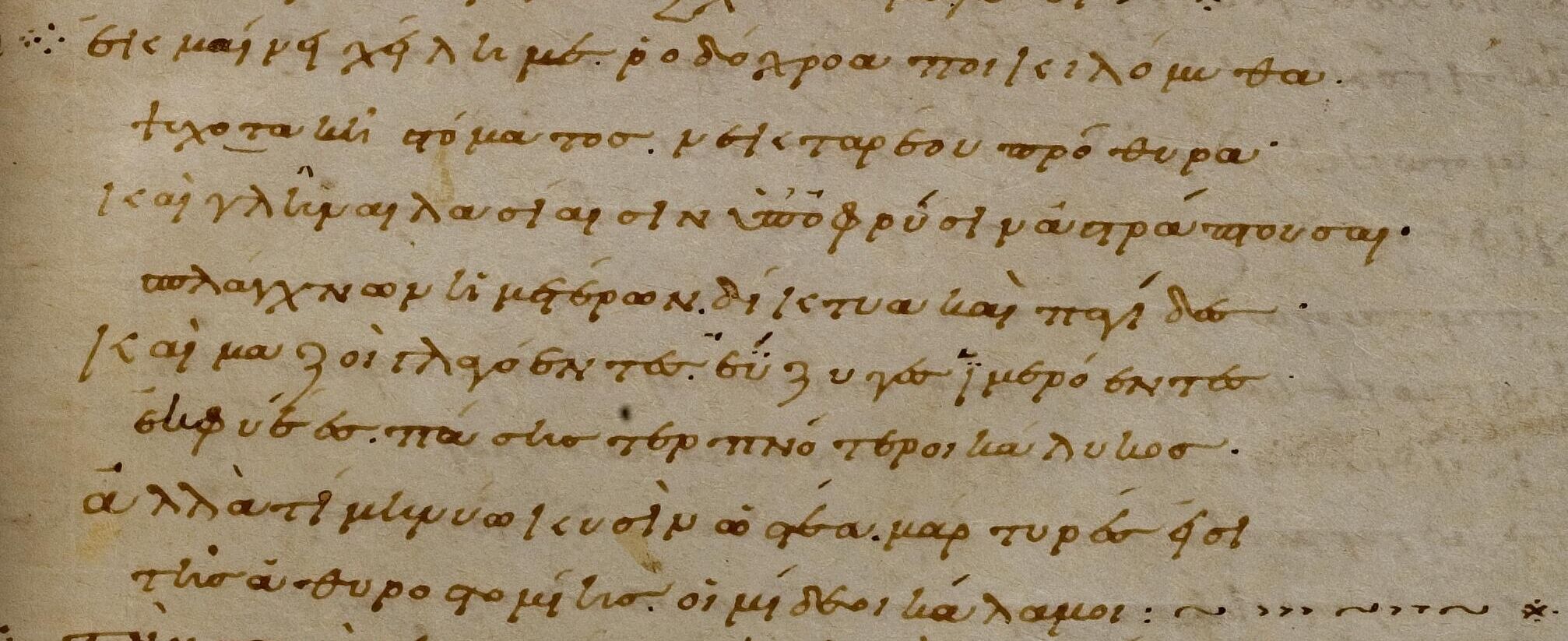 Note: Vers 7 en 5.56
C'est-à-dire: « désigner une proie à des êtres affamés.» La même expression se retrouve dans une épigramme de Platon (VII, 100, 3), probablement authentique et de laquelle il semble bien que ce vers-ci soit imité. (Waltz)